You may remember that back in July I announced that I was starting work on an Adeptus Mechanicus Titan Legion army for Epic. I decided to make this my entry for the 'Tale of Epic Gamers 2009' painting challenge on Tactical Command, painting a certain amount each month (originally 500-1000 points, but after the first month I decided to up my target to 1000-1500 points) from August to December (I also did an extra month in January, but that wasn't part of the challenge).
Six months on, and the army is finished. I now have an AMTL army worth a total of 9,000 points. And here it is:
The largest Titan in the army is the Imperator. I've shown a picture of this one here before, but I might as well include it again for the sake of completeness:
Next largest are the Warlords, of which I have two. The first is armed with the standard load-out of two Turbolaser Destructors, a Volcano Cannon and a Gatling Blaster:
The other carries a slightly more expensive load-out of a Support Missile, Turbolaser Destructor, Gatling Blaster and Laser Blaster:
Both of these are the old plastic 'beetleback' Warlord model. I decided to stick with old-school 'Mars pattern' titans for this army rather than mixing older and newer models to give the army a more unified look. I had considered trying to make an army entirely of 'Lucius pattern' models, but with Forge World discontinuing their Lucius pattern Reavers and Warhounds, and Mars pattern models being easier to track down second-hand, I decided to go with the older figures instead.
The Beetleback warlord model had four sockets on the top of its carapace. Two are for mounting weapons on, while the other two are for banner poles. However, I didn't have enough banner poles (and wasn't that keen on them anyway), so instead I covered the holes with turrets from Battlefleet Gothic cruisers:
Next down in size are the Reaver Titans. In theory, these are supposed to be less numerous than the Warlords, but I have three times as many. There are a few reasons for this. One is that I love the model: it's one of my all-time favourite Titan models. Another is that Mars pattern Reavers are easy to come by, since you can still get them new from Games Workshop. And thirdly, I found it much easier to come up with different weapons configurations for Reaver Titans that seemed to be worth the points than I did for the more-expensive Warlords. As before, the first of these titans is in the standard configuration of Missile Launcher and two Turbolaser Destructors:
The second uses the same weapons fit as Forge World's Epic Reaver model; Missile Launcher, Gatling Blaster and Volcano Cannon:
A third is configured for a long-ranged heavy support role, carrying two Quake Cannons and equipped with a Carapace Landing Pad from which it can launch light skimmers to act as spotters for indirect fire:
The next titan is again carrying the same weapons fit as one of Forge World's models, but this time it's the same as their W40k model with a Missile Launcher, Gatling Blaster and Laser Blaster:
The last two are configured more for a close-range assault role. One has a Laser Burner, Plasma Cannon and Melta Cannon: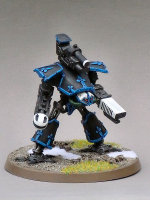 And the last has a Missile Launcher, Laser Blaster and Power Fist:
The smallest titans are the Warhounds. I have two packs of these, all equipped with the standard configuration of Plasma Blastgun and Vulcan Mega-bolter:
(For individual photos of the warhounds, see Warhound1, Warhound2, Warhound3, Warhound4.)
Three of the Warhound models I bought together and aside from being assembled into strange poses (easily rectified) were in good condition. The fourth, though, was in a bit of a state, with a dreadful, plastered-on paint job and visible blobs of glue around the joints (not to mention a fairly awful pose). So it was quite satisfying to strip, clean up and restore this model to a state where I was happy with it.
Finally, in addition to the titans themselves, I have two formations of Knights to support them. Note that one formation has spikes on the tops of the knights, while the other does not. That's because on half of the models I had, at least one of the spikes had snapped off at some point, so I decided to remove all of the spikes from those for consistency.
As I mentioned before, this army comes to a total of 9,000 points, making it the largest Epic army I have. More exactly (using the Legio Gryphonicus army list, v.3.16):
Emperor Class Titan (Imperator)
1,250
Warlord Battle Titan
Turbolaser Destructor
Turbolaser Destructor
Volcano Cannon
Gatling Blaster
725
25
25
50
25
Warlord Battle Titan
Support Missile
Turbolaser Destructor
Laser Blaster
Gatling Blaster
Legate
725
75
25
50
25
50
Reaver Battle Titan
Apocalypse Rocket Launcher
Turbolaser Destructor
Turbolaser Destructor
575
25
25
25
Reaver Battle Titan
Apocalypse Rocket Launcher
Volcano Cannon
Gatling Blaster
575
25
50
25
Reaver Battle Titan
Carapace Landing Pad
Quake Cannon
Quake Cannon
575
(Free)
75
75
Reaver Battle Titan
Apocalypse Rocket Launcher
Laser Blaster
Gatling Blaster
575
25
50
25
Reaver Battle Titan
Laser Burner
Melta Cannon
Plasma Cannon
575
(Free)
50
25
Reaver Battle Titan
Apocalypse Rocket Launcher
Laser Blaster
Titan Close Combat Weapon
575
25
50
25
Warhound Scout Titan
Plasma Blastgun
Vulcan Mega-bolter
275
(Free)
(Free)
Warhound Scout Titan
Plasma Blastgun
Vulcan Mega-bolter
275
(Free)
(Free)
Warhound Scout Titan
Plasma Blastgun
Vulcan Mega-bolter
275
(Free)
(Free)
Warhound Scout Titan
Plasma Blastgun
Vulcan Mega-bolter
275
(Free)
(Free)
Forge Knights
400
Forge Knights
400
Total
9,000
At this point the army is essentially done. In principle, I'd quite like to add another two packs of Warhounds; one pair armed with with Plasma Blastguns and Turbolaser Destructors, and the other with Inferno guns and Vulcan Mega-bolters. This would bring the army up to a nice round 10,000 points. However, I'm in no hurry to do this, and I'm quite happy to call the army finished for the moment.
My next project for Epic will be some Imperial Navy forces. A fairly glaring omission from this army is any aircraft, and that's because I'm currently planning to put together a wing of Imperial Navy aircraft that I can then use with any Imperial army I wish, in much the same way as I intend to share the standard configuration titans from this army with any Imperial Guard or Space Marine armies I assemble in the future.