So, way back in 2009, I painted up a fairly sizeable Eldar army for Epic. Later that year, I expanded it slightly. The following year, I added bases to all of the grav-tanks, but didn't post photos here.
Then I moved on to other painting projects, and then stopped painting at all for a couple of years. But, as I have mentioned in previous posts, this summer I was spurred to revisit the army, filling in the gaps and enlarging the army to almost twice the size it had been before. At 12,925 points it has overtaken both my AMTL and Chaos forces to become the largest Epic army I own, and it's also the first army for any system that I've ever really considered to be finished. There have been armies that I've thought of as 'done for now' but not that I have considered complete enough that I can't see any reason to revisit them in the future. But I am pretty happy that there is no need ever to come back to this army; it is done.
I started out by painting some Dreadnoughts (Wraithlords). These are the old plastic model from the first and second editions of the game. Nine of them was enough to fully reinforce the three Guardian Warhosts that I already had painted (see below).
Next up was this Warlock Titan. It can often be a mistake to rush in and paint the exciting models in an army first as it then leaves you with lots of infantry to slog through with nothing more exciting to look forward to, but at this stage I wasn't sure how long my new-found enthusiasm was going to last anyway and it would seem a shame not to get an exciting model like this done while I was still keen.
Next up were these support weapon platforms. Like the Wraithlords/Dreadnoughts, these are old SM2-era plastics. They're not equipped with the correct weapons for the current Epic rules; they should have D-cannons rather than vibro-cannons. However, the more recent models with the correct weapons seem to be very rare and I had no other source of D-cannons for converting, so I decided to just stick with these models as they were. They can be added to any Guardian Warhost.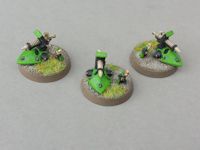 One thing that was missing from my army was super-heavy grav tanks. I had at one stage been hoping to get the gorgeous models for these that were released in 2005 but they proved horrifically expensive. To buy one or two would have been an extravagance, but to get enough for the whole army was just too much for me to afford. So in the end I had to settle for the late-90s versions which, although not as gorgeous as the later models, are still decent enough sculpts, if slightly under-sized.
However, using these older models presented a problem: the Storm Serpent. This unit was not introduced until the release of Epic: Swordwind in 2005 and so the older range had no model. So I was forced to convert my own. For each model I started with a Cobra hull and used putty to sculpt a webway portal and mounting for the turret from a Falcon grav-tank. Neither of the Falcon turrets I had were armed with scatter lasers (which is the standard armament on the Storm Serpent) so I also removed the heavy weapon and replaced it with a scatter laser from another model. I'm pretty pleased with the result. I've done very little converting in this army; almost all of the models have been stock, so it was nice to include these models that were completely unique.
At this point I painted up an extra wraithguard stand. Bringing the total number of stands from eight up to nine meant that I could now add a full complement of Wraithguard to each of my three Guardian Warhosts.
I then returned to painting SHTs with this pair of Cobras. One downside to using these older models is that the D-cannons on these vehicles does to some extent resemble an enormous dildo.
That just left these Scorpions. I think these are the best-looking of all the Eldar SHTs, whichever version of the model you go by.
Moving on from Super-heavies, I added some Vypers. In a game I'd probably be more likely to take mixed formations of these and regular jetbikes but here they are as one formation. These are the only conversions in the army besides the Storm Serpents; I've swapped the Shuriken Cannons that the models originally came with for the Scatter Lasers that they have in the rules.
Although I already had one formation of Alaitoc Pathfinders in the army, I decided to add a second one. One of the proposed changes to the army list is to up the maximum size for this formation to 8 units. Having a second formation of 6 would mean that I would have enough models to take an 8-strong troupe if the changes went through but would still be able to use all my models if they didn't.
Next up were Aspect Warriors. I already had formations of most warrior aspects, but a few were still missing. First up were these Howling Banshees, along with three Wave Serpents for transport. As before, the Exarch and Autarch models are extras that can be swapped in and out as required.
At this point I decided to add another formation of Guardians, but rather than use GW's plastic models (of which I still have plenty spare), I used 'Eloi Established' models from Troublemaker Games. More than anything else, I bought these for the heavy weapons platforms. As I mentioned before, GW's HW platforms are quite rare on eBay. Buying these meant that not only was I able to put together a formation's worth of platforms, but it was also a great source of scatter lasers to use in conversions; all of the scatter lasers that I used for conversions above came from these models.
Apart from the scatter lasers, however, getting these models also meant that I had two clearly distinguishable types of guardian models in the army. This means that if I use the Ulthwé army list rather than Alaitoc then I have an easy way of distinguishing between the 'Black Guardians' and regular ones.
I painted enough units that the weapon platforms can be swapped in or out if required.
Returning to the Aspect Warriors, these Shining Spears Shining Spears were acquired from eBay in a fit of extravagance. I was increasingly unsure that I could convert these effectively so when they came up on eBay I got carried away and bid more on them than was really sensible. The contents of the pack are a bit odd. There are twenty jetbikes but only 18 of the little stands to put them on, so that the Autarch and his companion are attached to their base with piano wire instead. Secondly, although I am fairly sure that the model with the headdress is supposed to be the Exarch, the pack contained 17 of this model and only three others. Consequently I used the headdress-wearing model as the regular Aspect Warrior and the other three as characters. I painted ten stands (including a second Exarch) rather than eight, mostly because that was how many came in a blister, but also so that in a Biel-Tan army I would be able to field an Aspect Warhost purely of Shining Spears. Some aspects work in combination with each other, but I don't think these do.
At this point I painted up a second formation of Night Spinners, mostly just because I already had some.
That left me with Warp Spiders as the only Aspect Wariors left to paint. Unlike most Aspects, they don't have the option of Wave Serpents for transport.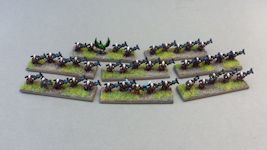 With the Aspect Warriors all painted I moved on to aircraft. The Eldar aircraft from Forge World are really lovely models. First up was this Vampire Raider:
Then these Phoenix bombers: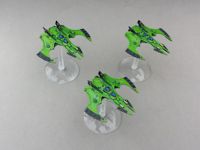 Finally, I added one last Guardian Warhost, transported in Wave Serpents: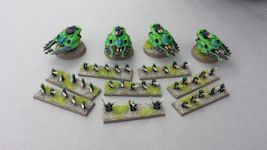 At the same time, I also painted up a Seer Council. Ulthwé armies do not have Autarchs as their supreme commanders but are instead led by a Seer Council, so I painted up this unit in case I wanted to use the Ulthwé list.
At this point the army was complete and I had painted almost 6,000 points since starting up again.
At this point, partly for the sake of completeness and partly because I never posted photos here after basing my Grav-vehicles, I might as well add pics of the rest of the army.
Three Guardian warhosts, all of which now include the full complement of Wraithlords and Wraithguard:
Rangers and War Walkers. These can be taken either as an 8-strong Ranger Warhost and a War Walker Troupe, or as two Warhosts of 4 rangers and 3 Walkers each.
Another Ranger Warhost of 4 Rangers and 4 Falcon Grav-tanks:
The Aspect Warriors. Formations of Dire Avengers (transported in Wave Serpents):
Striking Scorpions (transported in Wave Serpents):
Dark Reapers (transported in Wave Serpents):
Fire Dragons (transported in Falcons):
And Swooping Hawks (no transport):
Two formations of Jetbikes: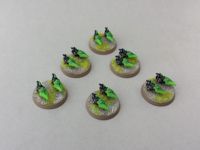 The other formation of Night Spinners: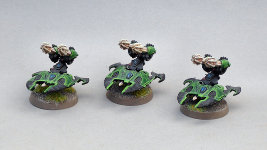 And the Swords of Vaul. Falcons:
Fire Prisms:
And Firestorms to add to the above:
Finally the support section. One Phantom Titan: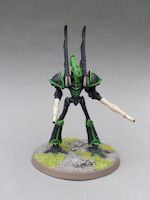 And a pair of Revenants:
Plus a squadron of Nightwing Interceptors:
Also a set of objective markers (including a Wraithgate Webway portal):
And last but certainly not least, the Avatar of Kaela Mensha Khaine:
So that's my army. Time for some group shots!
Here's a complete breakdown of what's in the army, using the army list from the current NetEA compendium:
Avatar
Free
Wraithgate
50
Guardian Warhost
3 Wraithlords
3 Wraithguard
150
175
150
Guardian Warhost
3 Wraithlords
3 Wraithguard
150
175
150
Guardian Warhost
3 Wraithlords
3 Wraithguard
150
175
150
Guardian Warhost
(3 Heavy Weapon Platforms)
Support Weapon Platforms
150

50
Guardian Warhost
4 Wave Serpents
150
200
Ranger Warhost
8 Rangers
200

Ranger Warhost
4 Rangers
4 Falcons
200

200
Aspect Warrior Troupe (6 Dark Reapers)
Autarch
Exarch
3 Wave Serpents
225
75
25
150
Aspect Warrior Troupe (6 Dire Avengers)
Exarch
3 Wave Serpents
225
25
150
Aspect Warrior Troupe (6 Striking Scorpions)
Exarch
3 Wave Serpents
225
25
150
Aspect Warrior Troupe (6 Howling Banshees)
Exarch
3 Wave Serpents
225
25
150
Aspect Warrior Troupe (6 Swooping Hawks)
Exarch
225
25
Aspect Warrior Troupe (6 Warp Spiders)
Exarch
225
25
Aspect Warrior Troupe (6 Shining Spears)
Exarch
225
25
Aspect Warrior Troupe (6 Fire Dragons)
Exarch
6 Falcons
225
25
300
War Walker Troupe
6 War Walkers
150
50
Pathfinder Troupe
6 Pathfinders

300
Pathfinder Troupe
6 Pathfinders

300
Swords of Vaul Troupe (6 Vehicles)
5 Falcons
1 Firestorm
300


Swords of Vaul Troupe (6 Vehicles)
5 Fire Prisms
1 Firestorm
300
75

Windrider Troupe
6 Jetbikes
200

Windrider Troupe
6 Jetbikes
200

Windrider Troupe
6 Vypers
200

Night Spinner Troupe
175
Night Spinner Troupe
175
Engines of Vaul Troupe
3 Scorpions

750
Engines of Vaul Troupe
2 Cobras

500
Engines of Vaul Troupe
1 Storm Serpent

250
Engines of Vaul Troupe
1 Storm Serpent

250
Phantom Titan
750
Warlock Titan
850
2 Revenant Titans
650
Nightwing Squadron
300
Phoenix Squadron
400
Vampire Raider
200
Total
12,925