Way back in the early-mid 90s, when I first started playing Warhammer 40,000, Space Marines were my first army. Originally my army was from the Ultramarines Chapter, but a few years later when the third edition of the game was released, I changed it to a successor chapter of my own invention: the Stars of the Emperor's Light. A lot of my Ultramarines were still unpainted so they were easy to incorporate into the new army; the rest I either re-painted or replaced with the new multi-part plastic marines that were released at that time.
Last year, with all the Epic armies that I had been working on finished, I decided to make a start on a new army of Space Marines, from the chapter that I had invented for 40K so many years earlier. I already had most of the models I needed, gathered together over the previous couple of years from various sources. Some are the original GW models, either bought on eBay or from GW when they were still available. Many of the vehicles are plastic rhinos from GW that have been converted into other vehicles using 3D-printed parts from Shapeways. A few are proxies drawn from other companies' 6mm ranges. Vanguard Miniatures and Onslaught Miniatures both make some excellent 6mm SF models many of which make great proxies for units in Epic.
Some of the models in the army are unofficial sculpts, made by fans and covertly traded with other gamers. A few years ago there were several people producing such models. Sadly, GW got wind of what was happening and a few Cease and Desist letters later, the 'forumware' scene had mostly shut down. It's not necessarily impossible to get hold of them, as people who bought them at the time sometimes realise they don't actually need all of them and sell them on eBay or similar. Still, they are now scarce and can be difficult to acquire.
Almost a year has passed since I began the army in late July last year. Throughout that time, although I have occasionally stopped to paint other things, the Marines have always been my 'main' painting project. Now, at last, they are finished. At 12,750 points, they are the largest single project I have ever undertaken and also the first army I have ever finished entirely in one go.
So here they are:
As usual, I have taken photos of all the formations in the army as I painted them.
First off, I have this command unit.
It consists of, from left to right, the Master of Sanctity, Master of the Forge, Chapter Master, Ancient, Chief Librarian and Master of the Apothecarion. It would probably best represent a unit of Terminators with a Supreme Commander character. All are converted to at least some degree except the Master of Sanctity for whom I just used an unmodified Terminator Chaplain model. The transport is a Battlemaster from Vanguard Miniatures. The closest unit to proxy it as in the Codex Marines list would be a Land Raider. A Spartan would be a closer match (that's what it's designed to be a proxy for) but those are only available in the Horus Heresy lists that the Australian Epic community have put together.
Next up is the Chapter's veteran First Company, consisting of five Terminator Detachments:
Although I had models for a Captain, Chaplain and Librarian in Terminator armour, the background states that every company also has an Apothecary and Standard bearer. These I had to convert myself. I have put each of my standard bearers in the same unit as the Captain. The Apothecaries also accompany another character, but which one varies from company to company.
Next up are the battle companies, each consisting of two Tactical detachments, one Assault and one Devastator.
In the Second Company, the Captain accompanies a Tactical detachment, the Chaplain the Assault detachment, while the Devastators are joined by a Librarian. None of these models are converted.
In the Third Company, the Captain once again accompanies a Tactical detachment, while the Chaplain joins the Devastators. A librarian joins the second Tactical detachment. The only conversion is the top of the Librarian's force staff. I wanted every Captain, Chaplain and Librarian model to be unique, so I swapped the top of the staff with another one (see below) to distinguish him from the one in the Second Company.
In the Fourth Company, the Captain accompanies the Assault detachment. I did not have models for either a Captain or Standard Bearer with a jump pack, so had to convert them. The Chaplain is also a conversion. For him I used an Emperor's Champion model, swapping his sword for the Chaplain's Crozius Arcanum.
In the Fifth Company, the Captain accompanies the Devastators. The Chaplain is once again in the Assault detachment; I converted him to add additional robes. The Apothecary is also a conversion as I did not have any Apothecary models with jump packs.
I skipped most of the reserve companies; I saw no reason to paint up whole companies of nothing but Tactical Squads. However, some of the Eighth (assault) Company appear in the form of the Bikes and Land Speeders.
I have three Bike detachments, each including two Attack Bikes, and each led by either a Captain, Chaplain or Librarian. The captain is a very subtle conversion; I slightly changed the shape of his head with putty to make him bald (like all the other models in the army) rather than sporting the flat-topped haircut the original model had. The Librarian has had a little bit of luggage added to the back of his bike as the original model had a strangely misshapen area at the back. The Apothecary I had to convert myself as there was no Apothecary model on a bike. The Chaplain and Standard Bearer are unmodified.
The Land Speeders are all just the stock GW models with no conversions.
Finally the Tenth Company consists of five Scout Detachments. The character models are the old GW plastics from the Epic 40K era. The Librarian has been converted slightly; as mentioned before, I swapped the top of his force rod so that each model would be unique. The fourth detachment has the Snipers upgrade. Note that the Tenth Company does not have a Standard Bearer.
In addition to the infantry companies, I have various vehicles from the chapter armoury. I have three formations of Predators, two of Lascannon-armed Annihilators and one of Autocannon-armed Destructors:
These Vindicators are one of the only two vehicles based on Rhino hulls that aren't converted from plastic Rhinos using turrets and sponsons from Shapeways. Instead they are the old Mk1 Vindicator model from the first edition of Epic. I have, however, added 3D-printed 'dozer blades to them, as this has become one of the defining features of the unit in more recent versions of the game.
I did have some plastic Whirlwind models, but I had destroyed the turrets of some of them for previous conversions. Consequently those got converted into Hunters while I converted these Whirlwinds from Rhinos with Shapeways turrets:
These are the aforementioned Hunters, as usual converted with turrets from Shapeways but using Whirlwind hulls instead of Rhinos. They aren't a formation in themselves but can be added to some other formations to provide anti-aircraft cover.
These Razorback IFVs also don't form formations by themselves, but are added to infantry formations as alternative transports. Half have Lascannon turrets and the other half have Heavy Bolters.
These Dreadnoughts can be added to Tactical, Devastator or Terminator formations:
I also have three formations of Land Raiders:
Finally, there is this Super-Heavy tank. It's a Challenger from Vanguard Miniatures, and it's clearly designed to proxy a Fellblade in a Space Marine army. Which is great, except there is no Fellblade in the regular Codex Space Marine army list. It does appear in the Imperial Fists list, as well has the Horus Heresy lists I mentioned before, but in the regular Codex list, it doesn't appear and there isn't really anything close to it that it could represent instead. So although I really like this model, and it makes a neat centrepiece for the army, I don't actually have a use for it in-game.
I also have some air support for the army. I have two Thunderhawk Gunships. One is missing its Lascannons. The model came to me second-hand from eBay and one was broken off when I got it. Since they don't actually have them in the game rules anyway, it seemed easiest just to remove them entirely.
Plus, when a Thunderhawk just isn't big enough, there's the Landing Craft:
Finally, I have these two flights of Stormtalon VTOL aircraft. These were entirely 3D printed at Shapeways. Again, they don't have rules in the Codex Marines army list (although they do appear in the Imperial Fists list), but they work fine as proxies for Thunderbolt Fighter-bombers.
Providing orbital support is this Strike Cruiser. I haven't included it in the whole-army shot above as it doesn't appear on the table and isn't to scale with the rest of the army.
And allowing forces to deploy from that Strike Cruiser are these Drop Pods. They're Veritas Drop Craft from Onslaught Miniatures, but they work very well as SM Drop Pods.
Finally, I have these small bunkers, from Wasteland Games Studio. They're mostly just to use as objective markers, although there are some variant Space Marine lists that allow you to take fortifications.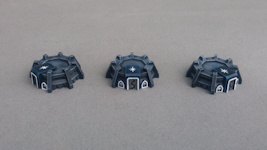 And that's it! If the army needs Titan support, I can use the models from my AMTL army, although I am also in the process of painting up some alternative 'truescale' models to fulfil this role. So far I only have a pair of Warhounds done but I also have a Reaver that I hope to finish soon. I have yet to acquire a truescale Warlord model, but it's possible that I may be able to get hold of one in the future. The army is already well-served for fighter cover, but if it needs bombers, it can draw on my Navy Air Wing for that.
Under the NetEA Codex Space Marine army list, this all comes to 12,750 points:
Terminator Detachment
Supreme Commander
Land Raider
350
100
75
Terminator Detachment
Captain
350
50
Terminator Detachment
Chaplain
350
50
Terminator Detachment
Librarian
350
50
Terminator Detachment
2 Dreadnoughts
350
100
Tactical Detachment
Captain
Razorback
275
50
25
Tactical Detachment
Razorback
275
25
Assault Detachment
Chaplain
175
50
Devastator Detachment
Librarian
Hunter
250
50
75
Tactical Detachment
Captain
Razorback
275
50
25
Tactical Detachment
Librarian
Razorback
275
50
25
Assault Detachment
175
Devastator Detachment
Chaplain
Hunter
250
50
75
Tactical Detachment
Chaplain
Razorback
275
50
25
Tactical Detachment
Razorback
275
25
Assault Detachment
Captain
175
50
Devastator Detachment
Hunter
250
75
Tactical Detachment
Razorback
275
25
Tactical Detachment
Razorback
275
25
Assault Detachment
Chaplain
175
50
Devastator Detachment
Captain
Hunter
250
50
75
Bike Detachment
Captain
2 Attack Bikes
200
50

Bike Detachment
Chaplain
2 Attack Bikes
200
50

Bike Detachment
Librarian
2 Attack Bikes
200
50

Land Speeder Detachment
2 Land Speeder Tornadoes
200

Land Speeder Detachment
2 Land Speeder Typhoons
200
25
Scout Detachment
Captain
150
50
Scout Detachment
Chaplain
150
50
Scout Detachment
150
Scout Detachment
4 Snipers
150
50
Scout Detachment
Librarian
150
50
Predator Detachment
4 Predator Annihilators
250

Predator Detachment
4 Predator Annihilators
250

Predator Detachment
4 Predator Destructors
250

Vindicator Detachment
225
Whirlwind Detachment
300
Land Raider Detachment
325
Land Raider Detachment
325
Land Raider Detachment
325
Thunderhawk
200
Thunderhawk
200
Landing Craft
350
Stormtalons
Count as Thunderbolts

175
Stormtalons
Count as Thunderbolts

175
Total
12,750
With that done, I'm going to try and get the Reaver Titan I mentioned before done, before taking a bit of a break from 6mm. After that I think I'm going to work a bit on getting my scenery sorted out a bit better before I start working on some Orks.